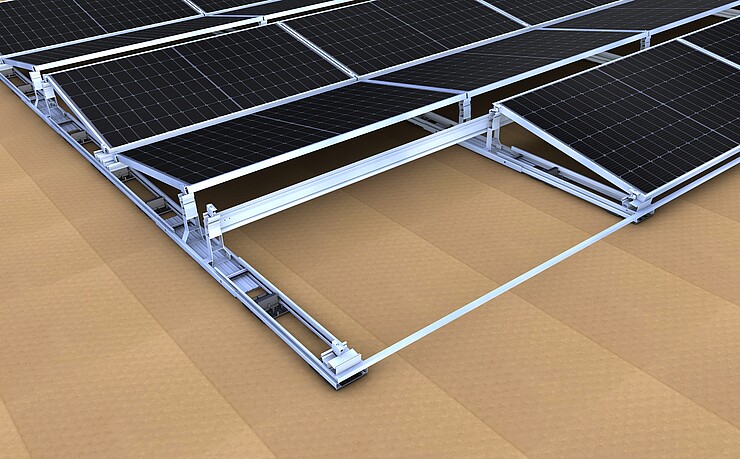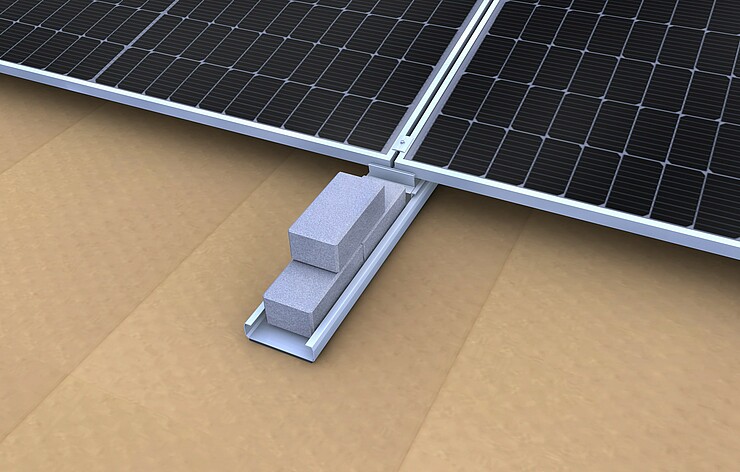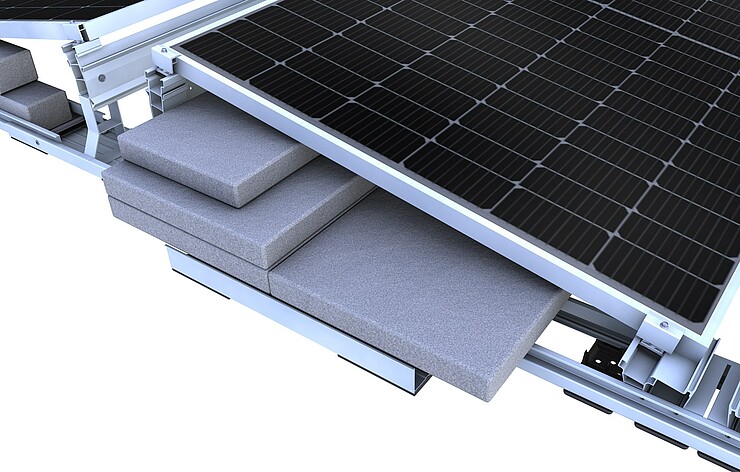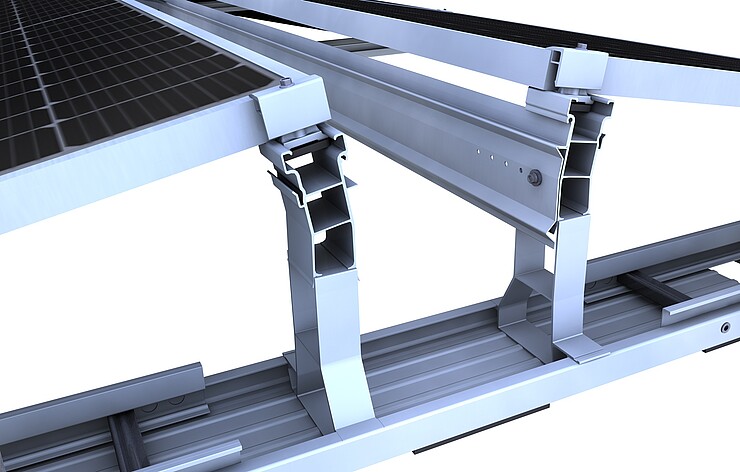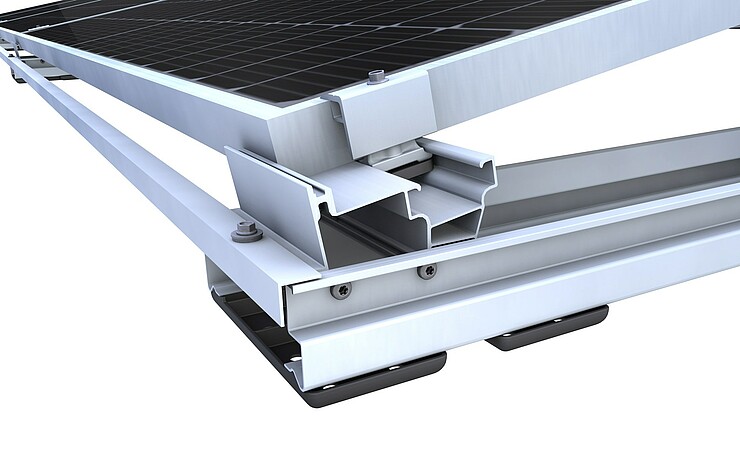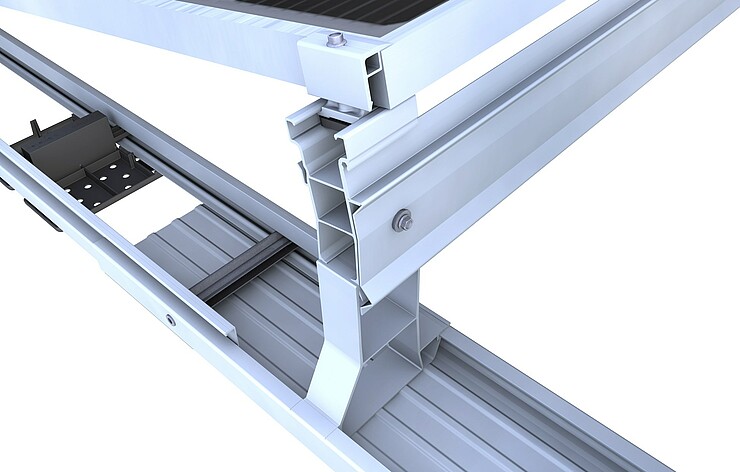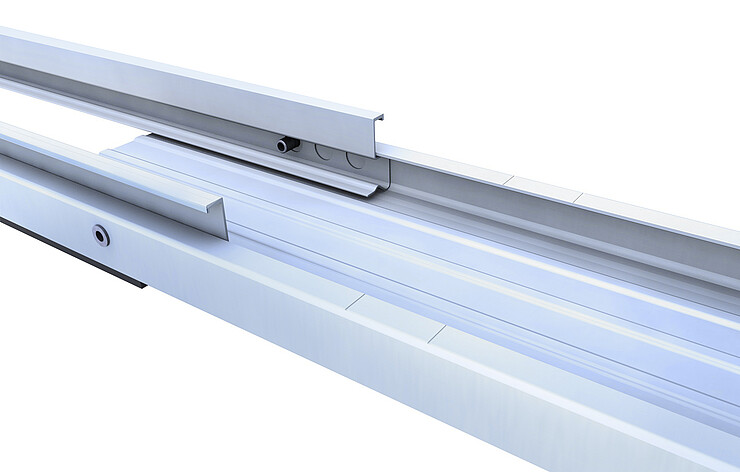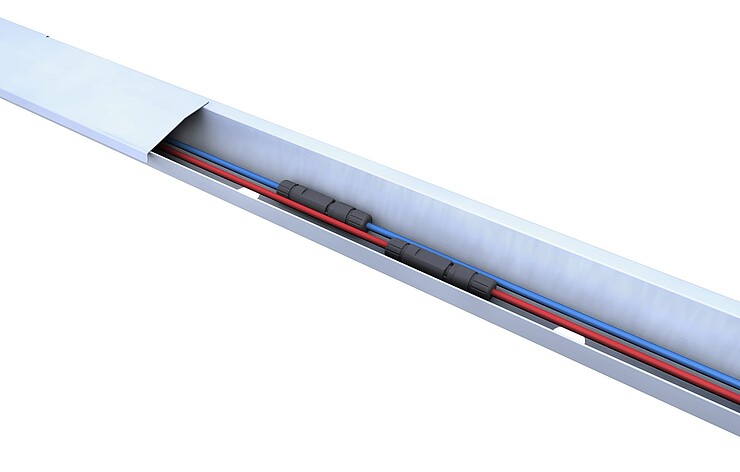 Flat roof system III « the shortcut »
Modular designed clamping system with modules installed in landscape
Simple and quick installation due to high degree of pre-fabrication and tool-free click system
Low logistical effort and optimal handling thanks to short components
Wind tunnel tested aerodynamics
Maximum utilisation of the roof surface and evenly distributed electricity production
Efficient use of space thanks to 10° module inclination and landscape installation
Cross connections at module field edges for high stability
Suitable for wide modules
---
Click on the + Icons to see components of this mounting system.
---
More information about the flat roof mounting system east-west III « the shortcut »
Our flat roof III mounting system is characterized by its quick and easy assembly. Thanks to a high degree of prefabrication of the system components and the almost tool-free click system, the installation time is reduced enormously. The short and handy components allow the installer to easily handle the components on the roof. In addition, the logistical effort is reduced due to the small space requirement, because the short system components can also be transported in small vehicles. Individual processing steps, such as sawing, are therefore no longer necessary.
quick and easy assembly
prefabricated and short system components with tool-free click system
low logistic effort due to few and compact parts
module inclination of 10
horizontal mounting
clamping on the short frame side
applicable up to 5° roof pitch
can be planned and used regardless of location
wind tunnel tested aerodynamics (180°)
applicable on foil and bitumen roofs, as well as on gravel roofs
Data sheets
Mounting instructions
Product advantages
Tender texts
How to easily mount our flat roof III system east-west.
---
Manufacturer
Module
Flat roof II / Flat roof III
Flat roof II with 3rd base trough
Insertion system portrait
Insertion system landscape
Insertion system portrait with support rail
Status
Suction
Pressure
Suction
Pressure
Suction
Pressure
Suction
Pressure
Suction
Pressure
The specified values (given in Pascal (Pa)) correspond to the permissible load. The safety factor of 1.5 to be considered according to IEC 61215 is already included. To the best of our knowledge and conscience, we have compiled the listed data for you from the individual approvals or installation instructions of the manufacturers. We accept no liability for transmission errors or changes to the values at short notice.
Do you have questions about the product?

Visit our FAQ section.
---