PV mounting systems for flat roof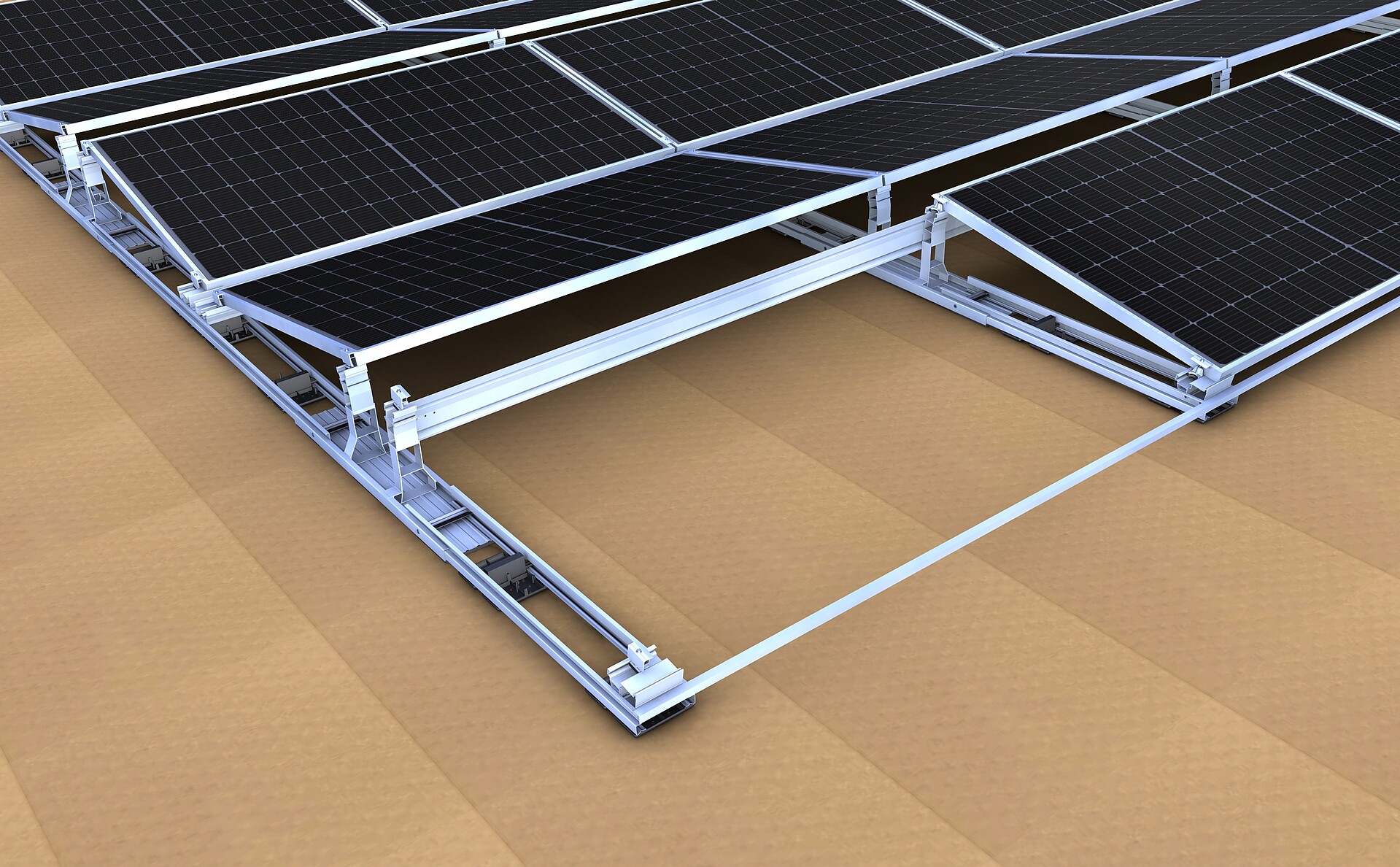 Flat roof system III - "the shortcut"
With the latest system in our flat roof product family, we enable even easier and faster assembly thanks to the high degree of prefabrication and the tool-free click system. The short components allow easy handling as well as low logistical effort, as they require little space and can also be transported in small vehicles.
Flat roof system II - "the allrounder"
Secure, stable and suitable for many types of roofs – that's our flat roof system II. Available for east-west or south oriented PV installations, the "allrounder" provides an optimum elevation angle of 13° for good efficieny and self-cleaning. The optimised aerodynamics require little to no ballasting with stones – perfect for your flat roof.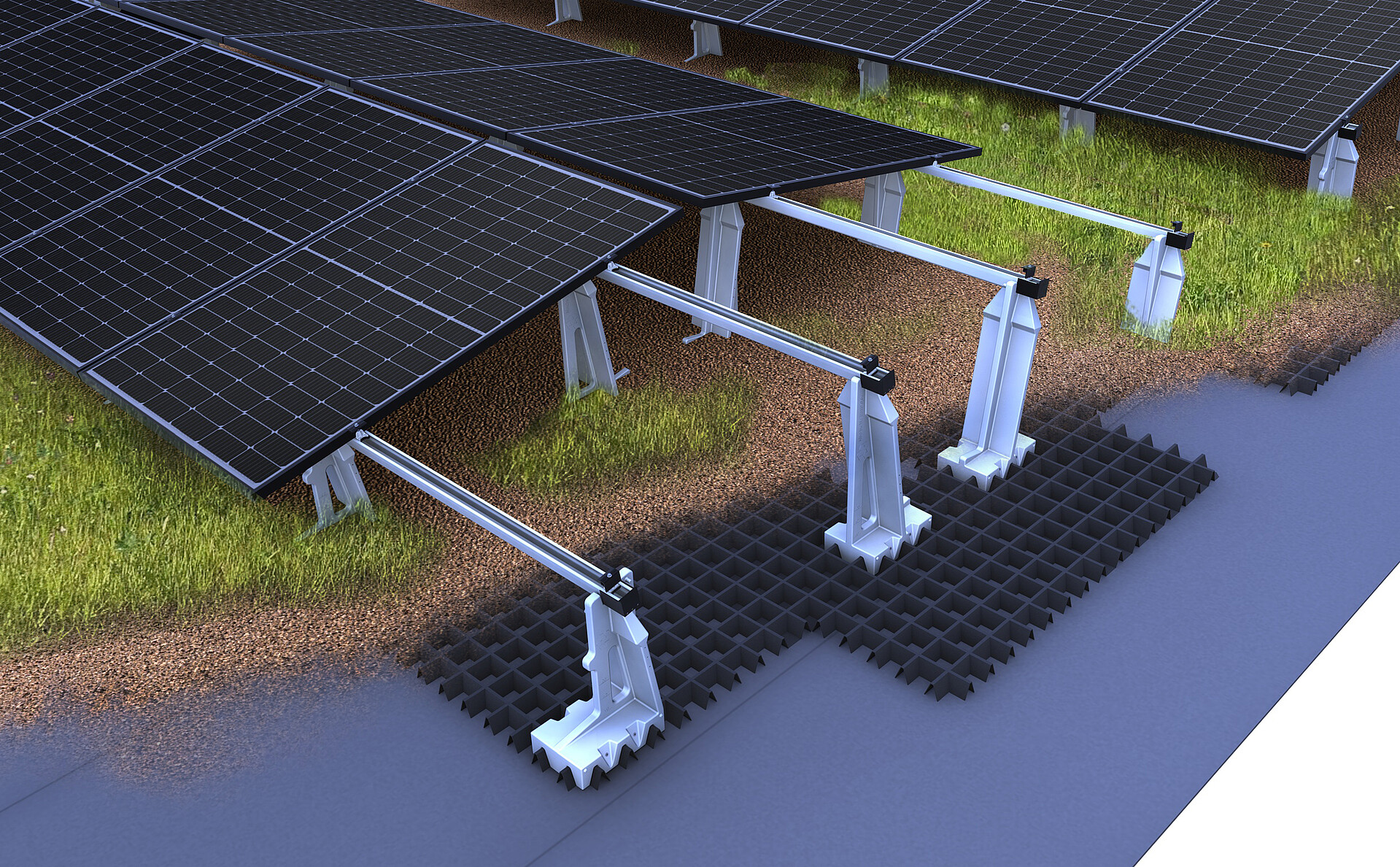 Green roof system - biotope, water reservoir, air conditioning
With our green roof mounting system East-West, you make maximum use of the surface area of your flat roof: through different layouts with the same components, not only East-West, but also butterfly and South orientations are possible. The electricity production is thereby distributed more evenly throughout the day. The mounting system with an inclination of up to 10° ) is a very safe and stable system for flat roofs - and is also easy and quick to set up.
Flat roof system I - "the rock"
Our proven flat roof I system convinces with a high degree of flexibility and is ideally suited for gravel roofs in addition to bitumen, foil or concrete roofs. The system is available for east-west or south orientations.
Safe and efficient PV mounting systems for flat roofs
When it comes to installing photovoltaic systems on flat roofs, novotegra flat roof systems are the right choice. All solutions in the flat roof product family not only offer safety and stability, but are also easy to install.
The perfect solution for every flat roof
The PV substructures for flat roofs from novotegra are characterised by their high degree of flexibility. The solutions enable installation with both south and east-west orientation of the PV systems. novotegra flat roof systems offer optimal mounting solutions for PV systems on flat roofs with all surfaces, including concrete roofs, foil roofs, bitumen roofs and gravel roofs. For flat roofs with green roofs, the specially developed novotegra green roof system is recommended, which can also be implemented in "butterfly" construction.
With the exception of the green roof system, all novotegra flat roof systems can be installed on existing buildings as well as on new buildings. The complete novotegra flat roof portfolio can be used for roof pitches up to 5°. The module pitch is possible up to 13°, so that the available area on the flat roof can be used efficiently.
Simple logistics and quick installation
The installation of novotegra flat roof solutions is as uncomplicated as can be. Even the smooth logistics or delivery of just a few components makes it as easy as possible for the installer. On the roof, we also place great emphasis on easy handling and quick installation of the system components. For example, the click-in module supports and base feet eliminate the need for time-consuming screwing. You can find useful knowledge about the installation of novotegra flat roof systems in our Training Centre, in the flat roof installation videos or with free initial installation support from our novotegra experts.
The optimal ballasting
The PV flat roof mounting systems are fixed to the roof with ballast blocks. Each location requires individual ballasting. Thanks to the optimized aerodynamics of the novotegra systems and the realistic wind tunnel tests carried out from all sides, optimized ballasting is achieved. With novotegra flat roof mounting systems, there are no restrictions on the height that can be planned..
Durability gives security
High-quality materials and careful workmanship guarantee maximum stability and reliability. Of course, all novotegra flat roof mounting systems have the required TÜV and CE certificates. The mounting systems are designed to withstand all weather conditions and thus guarantee a long service life. A product guarantee of 12 years gives the operator of the PV system additional security.
For flat roofs always the right decision
With novotegra flat roof mounting systems, you make optimum use of the roof surface and guarantee your customer consistent electricity production. Use these high-quality mounting systems to provide your customers with clean energy production. With PV mounting systems for flat roofs, you can accompany your customers on the path to a sustainable energy future. Plan your flat roof project now in our Solar Planit planning tool.