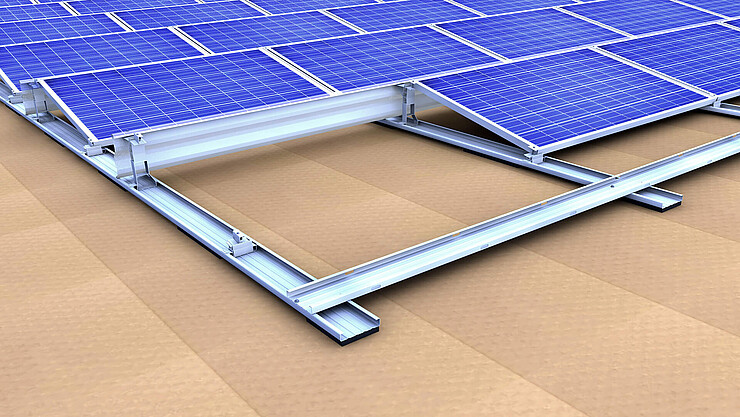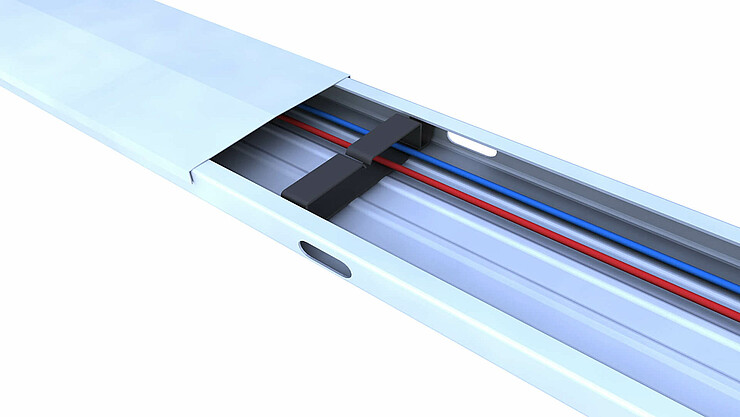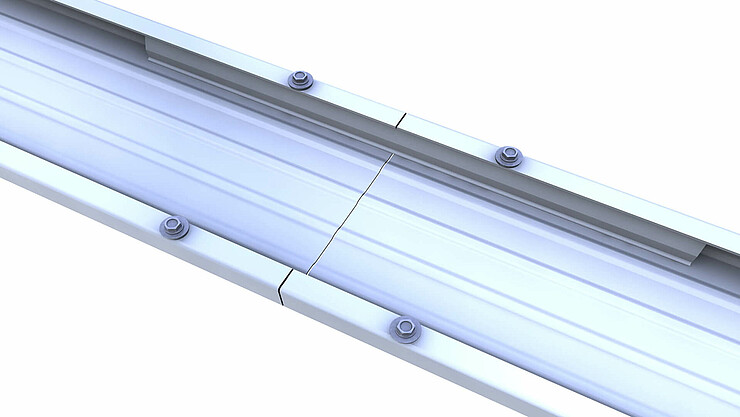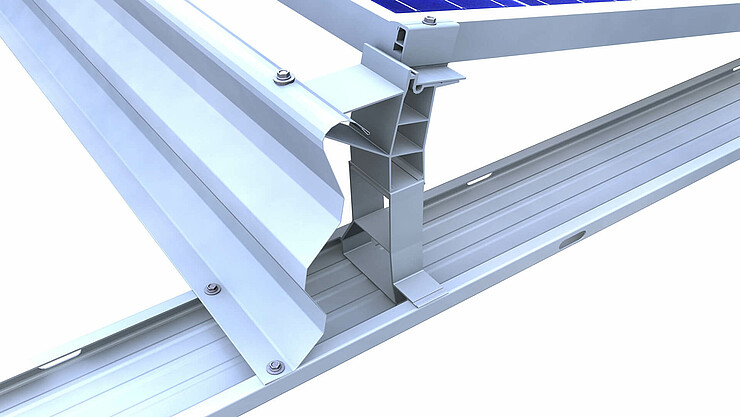 Flat roof | south system II (single-layer)
Our flexible solution for south-facing direction
Optimum module orientation towards south
Optimum elevation angle 13° for good efficieny and self-cleaning
Cross connections at module field edges for high stability
High flexibility thanks to individually selectable row distance
Connected module fields up 34 m length possible
Wind-tunnel tested aerodynamics
Wide and continuous base trough for good load redistribution to prevent damage on the roof insulation
Module supports and base feet with click-fit function – no screwing necessary
Suitable for wide modules
The specified values (given in Pascal (Pa)) correspond to the permissible load. The safety factor of 1.5 to be considered according to IEC 61215 is already included. To the best of our knowledge and conscience, we have compiled the listed data for you from the individual approvals or installation instructions of the manufacturers. We accept no liability for transmission errors or changes to the values at short notice.
---
Click on the + Icons to see components of this mounting system.
More information about the flat roof mounting system
Our "Flat Roof Closed II" system – the perfect solution for the south-facing elevation of your modules on flat roofs with a pitch of up to 5°! We had our system tested by Wacker engineers in a boundary layer wind tunnel with high wind peaks. The result confirms our quality which has proven itself for years: with our flat-roof system, you are choosing unparalleled security and stability.
The closed II system convinces with its quick and easy installation, consists of only a handful of components and click-in system parts – the roof is not punctured during installation. The optimised aerodynamics required little to no ballasting with stones – perfect for your flat roof. This is made possible by our wind deflector which is installed in an overlapping fashion on the closed II elevation and fixed to the supports and rails. This increases the overall stability and ensures optimised load transfer through its attachment to the base rails. The wide base rail has rounded edges and is pre-assembled with a continuous separation layer or individual pads for cross drainage, as desired. With a suitable cover and cable holder, it can also act as the cable channel for the cables on the base rails. Per default, this mounting system can support loads of up to 2.4 kN/ m²; and can be expanded to loads of up to 4.8 kN/m² if necessary.
How to easily mount our flat roof system south single-layer